Is it worth it? That should be the big, burning question behind exterior home improvements. Most real estate agents will advise you against installing a swimming pool. It's a terrible investment — especially in western Washington where you'll use it just part of the year. It's expensive, and high maintenance and doesn't raise the value as much as the cost. But there are plenty of valuable ways to spruce up the outside of your home and add curb appeal. Here are the five best value exterior home improvements.
1. Garage Door
This improvement is No. 1 on the "best value" home improvement list. In western Washington, you'll get back 123.8% of the average cost of a new garage door. That's like free money. But the value isn't only about the appearance. Garage doors can improve your home's energy efficiency and security, and lower the maintenance on the exterior of your home.
2. New Siding

Replacing old vinyl siding is completely worth the money. In fact, it's ranked as one of the best values for home improvements by Remodeling magazine's 2019 Cost versus value survey for the Seattle region. Just replacing the siding gives homeowners in western Washington an 85 percent return on investment. Replace it with a trendy manufactured stone veneer, and your ROI goes up to a whopping 110 percent.
3. Front Door
Your front door is part of your home's first impression. Replacing or updating a dull front door is another exterior home improvement with a lot of bang for the buck. According to the 2019 cost versus value survey, a new mid-grade front door replacement has a 78 percent return on investment in the Seattle area. But if you decide to go all out and turn your front door into a grand front entrance, the ROI goes up to 85 percent. Not bad for a weekend's worth of work.
4. Green Up the Lawn
The state of your yard reflects on the state of your home, at least in the eyes of someone who sees it from the street. Realtor.com lists landscaping as the top item to add value  and attract buyers to your home. Regular mowing, watering and fertilizing are key to turning your patch of grass into a lovely lawn. And if you're looking to thicken up the grass  and make your yard the envy of the neighborhood, try overseeding in the fall to fill in any thin or brown patches. A bag of grass seeds and a seed spreader can add value and  make you wonder why you didn't do it before.
5. All Hands on Deck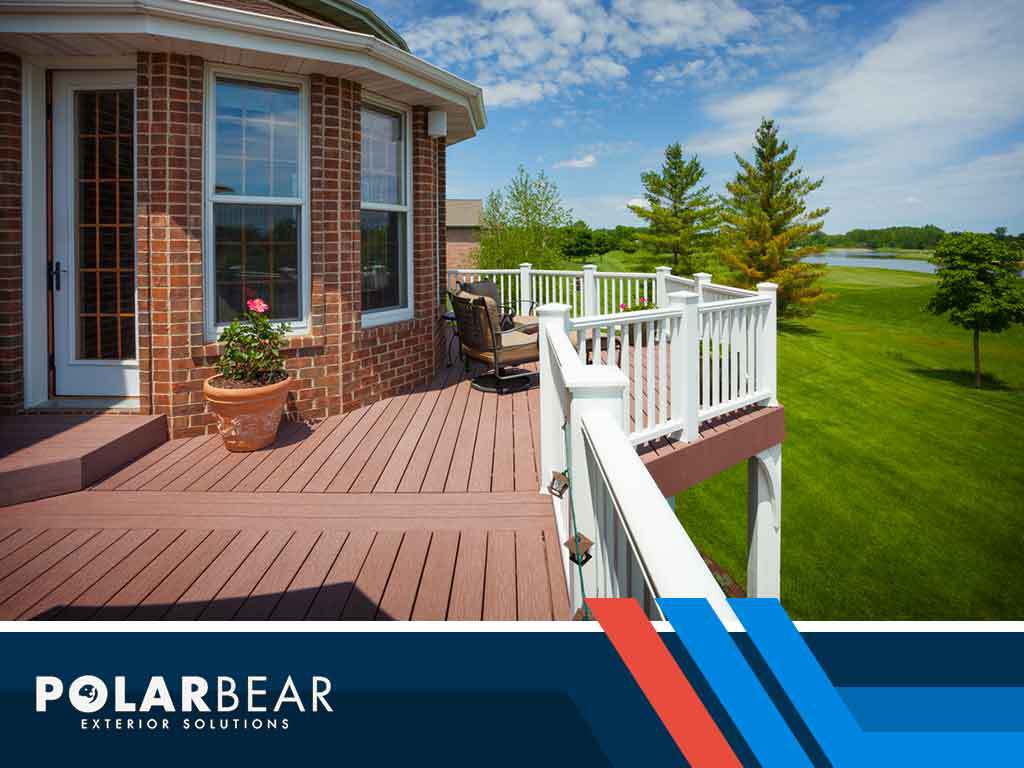 Adding a deck can be a pricey home improvement project whether you DIY or you hire a pro, but the numbers don't lie. A new deck adds value to your home to the tune of 87% in western Washington. That's because outdoor living is trending right now, especially in the Pacific Northwest, where decks built of cedar or redwood have a certain regional charm. Think of it as an outdoor living room, where you'll enjoy mealsand relax. It extends the living area of your home, and when the time comes to sell, it's an upgrade that's attractive to potential buyers.
When it comes to value, not all home improvements are created equal. Some exterior enhancements, such as improving the lawn and pruning the shrubs, won't cost a lot, and  will still elevate the look of your home. Other projects can be a lot more expensive, but if you pick the right projects, the value and the return on investment are worth the money  and time.
Roselyn Jenkins is a real estate agent who spends much of her time fixing up and flipping old houses. Her specialty is creating eye-catching landscapes.